With the HST SYNCHRO program we provide tap holders, also suitable for HST machining, which are especially designed to match your requirements. BASS tap holders in combination with BASS threading tools represent an unbeatable tandem for highest efficiency in the production of internal threads.
Our tap holders compensate errors of the hole centerline spindle rotation and the feed axis. With their specially designed and patented damping, they guarantee a micro-compensation of the feed axis.
During the tapping process, contaminants get into the tap holder and can therefore strongly affect its functioning. To counteract this, a regular cleaning is required.
Unlike many competitive products which are damaged at temperatures above 60 °C and which are therefore insufficiently washable, the HST SYNCHRO withstands temperatures of up to 80 °C and can be completely cleaned.

HST SYNCHRO
Our tap holder for standard applications is available in different sizes
Besides straight and HSK-shank we can offer further shank types upon request.

HST SYNCHRO MMS
Our tap holder for minimal quantity lubrication in combination with our MQL threading tools avoids accumulations of the lubricant. This ensures that the lubricant reaches the tool operating area.

HST SYNCHRO 100
Our tap holder for large dimensions from M30 to M48.
For compensation of axial deviations of ± 1,5 mm.

HST SYNCHRO SL
Our tap holder for the machining of parts with interfering edges in serial production.
The extended shank allows the use of favorably priced threading tools in standard lengths. The extensions are integrated into standard tap holders.

HST SYNCHRO QCA
Our tap holder for the time-saving tool change in the machine without auxiliary equipment.
While conventional quick change systems and holders have a large radial play our QCA was especially designed for the use in the HST SYNCHRO tap holder.

HST SYNCHRO 10
Our tap holder for small dimensions from M1 to M3.
The total length can be continuously adjusted from 100 mm down to 60 mm by shortening the straight shank.
The BASS catalog program includes tap holders:
for threading tools in the dimension range of M1 to M48
model with cylindrical shank DIN 1835 B/E
model with HSK-A adapter DIN 69893 A
extended model with an additional length of up to 200 mm
with quick change system
with Weldon adapter

Our tap holders are available with following accessories:
collet with inner square
clamping nuts DIN ISO 15488 for internal coolant
sealing discs for clamping nuts DIN ISO 15488 for internal coolant
cooling discs
coolant tubes for HSK shanks
axial adjustment screws (AES)
MQL transfer unit for HSK shanks.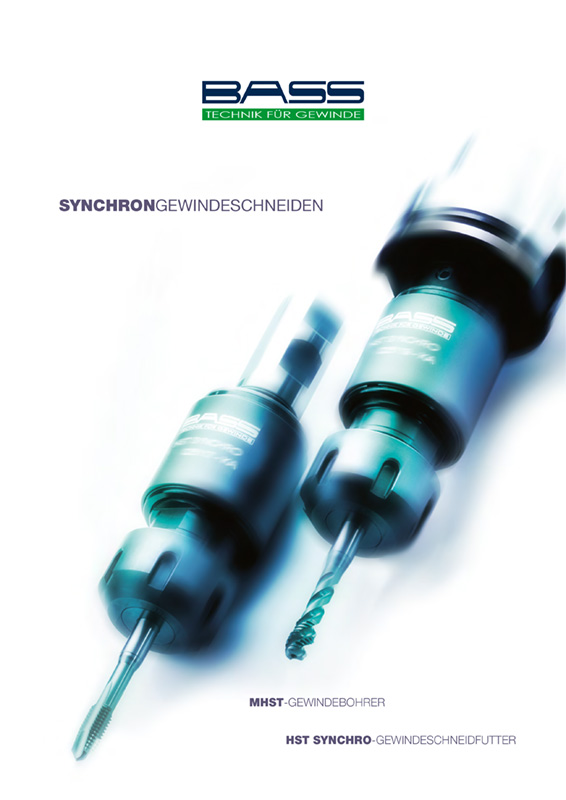 The brochure for our tap holders – a general overview.